WELDING
WELDING AT PRODAN
Welding is one of our primary fields of work. Skill, thoroughness and accuracy are three essential requirements in our welding department. Our certified welders possess a high level of expertise and, supported by modern equipment, it is possible for us to provide several different types of welds.
At Prodan, we weld most types of metal, regardless of dimension, size or shape. We also make large and small prototypes and batch runs. We base each weld on a WPS supported by a WPQR.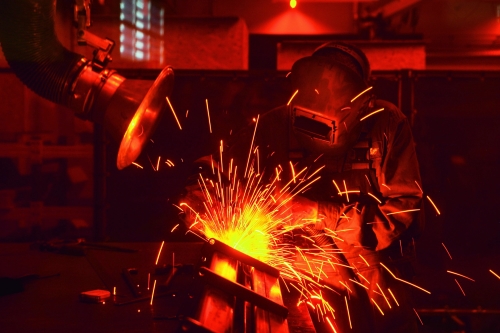 TIG WELDING, MAG WELDING AND MIG WELDING OF CARBON STEEL, STAINLESS STEEL AND ALUMINIUM
(ROBOTIC WELDING)
Robotic welding is an extremely efficient welding method especially for welding of workpieces in large batch runs requiring high uniformity.
We provide robotic welding for a large number of workpieces, such as stable fixtures, sorting systems and racks for transporting wind turbine blades. Robotic welding can be carried out as MAG welding, MIG welding and TIG welding.
Our robotic welding tasks use six-axle Panasonic/Valk industrial welding robots that can weld workpieces of carbon steel up to 6000 mm long and 1200 mm wide and that weigh up to 6 tonnes. Our welding robots can also weld workpieces of aluminium or stainless steel up to 2000 mm long.
WELDING ALUMINIUM
(TIG WELDING AND MIG WELDING)
Aluminium welding is an area where our experienced welders use MIG welding to pipe-weld and sheet-weld large aluminium structures. MIG welding is often used to weld metal thicknesses of more than 3–4 mm.
TIG welding is the most highly controlled welding method, requiring great expertise and a steady hand. At Prodan we are certified to carry out TIG welding on large and small workpieces. We TIG weld many transport fittings for the wind-turbine industry, among others. We use Kemppi welding machines for our TIG and MIG aluminium welding processes.
TIG WELDING AND MAG WELDING
(MANUAL WELDING)
The welding department welds pursuant to ISO 3834. Our metalworkers are certified welders who are accustomed to welding according to rigorous documentation requirements. We can weld everything from small components to large structures weighing more than 20 tonnes. Prodan carries out many welding tasks for, e.g., the wind-turbine and agricultural industries, and also welds waste-sorting machinery, transportation racks, lifting equipment and other large structures.
WELDING STAINLESS STEEL
(TIG WELDING AND MIG WELDING)
Welding stainless steel is an area where Prodan's welders master both pipe and sheet welding and weld in virtually any metal thickness available. Our MIG welding of stainless steel includes fittings for the wind turbine industry and gear wheels for the food industry.
Our welders TIG-weld countless different workpieces, from baby-changing tables, hand dryers and soap dispensers to ventilation ducts, tanks and milk cooling tanks for the food industry, the Danish military, agriculture, the wind-turbine industry and the industrial hygiene sector.
We use Kemppi welding machines for our TIG and MIG stainless steel welding processes.