LASER CUTTING, PLASMA CUTTING, ACETYLENE CUTTING, AND FLANGING METAL SHEETS
Our experienced team is highly skilled in laser cutting, plasma cutting as well as acetylene cutting. We are also experienced in flanging metal sheets and we always do our utmost to fulfil our customers' wishes and requirements.
At Prodan, we take on great responsibility in our work, and we take pride in providing excellent quality with great accuracy and a superb finish.
CERTIFIED FOR RE-STAMPING
Prodan is compliant with the procedures and requirements needed for certification in the re-stamping of raw materials. Re-stamping materials enables us to retain their charge number and traceability.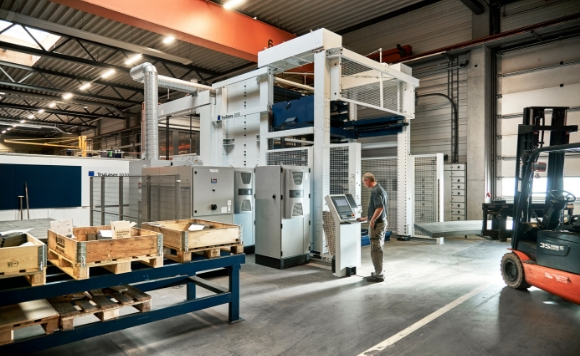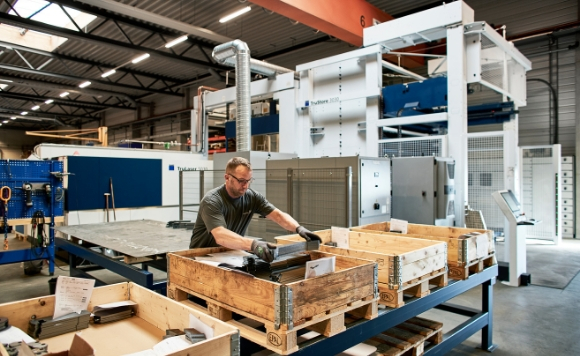 LASER CUTTING IN STAINLESS STEEL, ALUMINIUM, STEEL AND CHEQUER PLATES
At Prodan, we are highly experienced and competent in the field of laser cutting. We assume tasks for companies both domestically and abroad, and we do laser cutting in both stainless steel, aluminium, brass, copper, steel and chequer plates.
In our laser cutting department, we have a Trumpf 5030 Fiber and two Amada CO₂ laser cutters. The Amanda laser cutters are fitted with high-bay storage tower and sorting function, which helps to optimise the process for large series productions.
LASER CUTTING OF PLATES MADE TO MEASURE
Our fibre laser has the ability for water cooling of thicker quality samples, which enables cutting of very small holes in relation to the material thickness. All machines have an efficient programming with auto nesting that plays an important role in accomplishing the tasks given to us by our customers, who each have individual needs and wishes.
Our laser cutters give us ample opportunity to make a nice-looking product, which at the same time fully lives up to the expectations to quality and precision.
With our laser cutters, we have the ability to perform laser cutting tasks precisely to the measurements requested by our customers. We can laser cut plates up to 1540 x 3100 mm with a plate thickness from 0.25 to 25 mm in standard steel and up to 35 mm in stainless steel.
VERSATILE LASER CUTTING IN STAINLESS STEEL, ALUMINIUM, BRASS, COPPER ETC.
We offer laser cutting of plates in both stainless steel, aluminium, brass, copper, diamond plates, chequer plates, perforated plates, steel and high-strength steel – and our team is able to accomplish a tolerance of +/-0.05 mm.
LASER CUTTING FOR OFFSHORE, DEFENCE, AND FOOD INDUSTRY ETC.
Amongst our references we can mention the offshore industry, the food industry, the defence industry, the agro-industry, and the crane industry. In addition, we also perform a great deal of laser cutting for the hygiene industry, which requires an especially high finish.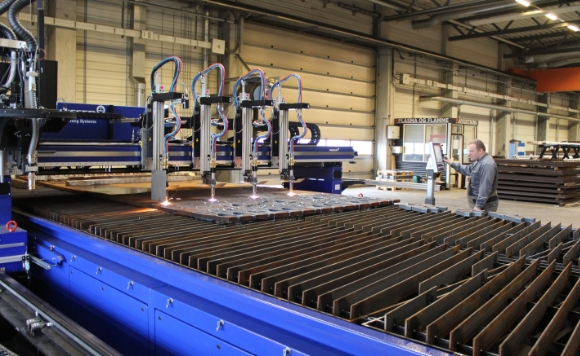 ACETYLENE CUTTING OF LARGE SHEETS
Prodan undertakes acetylene cutting of workpieces for many businesses – and we can acetylene-cut sheets up to 3 x 13 m up to 150 mm thick.
Our acetylene cutters operate with up to four alpha burners, and we know how important it is to perform the task precisely in accordance with the customer's needs, wishes and requirements.
Acetylene cutting of prototypes
We acetylene-cut large or small batches as well as prototypes in accordance with customer drawings or sketches. If you need help to produce a drawing, our PTA staff can assist you with this too.
We often use acetylene cutting with parts for the automotive market, engineering and the crane industry.
LARGE-FORMAT 3D PLASMA CUTTING
We offer 3D plasma cutting using a Hypertherm HPR 400 XD, so we are able to supply items that fully match the customer's needs and requirements. Our cutter is a Messer MultiTherm combined plasma and acetylene cutter, and we offer plasma cutting in sheet sizes up to 3 x 13 m. As regards sheet thickness, we can even plasma-cut iron up to 50 mm, stainless steel up to 40 mm and aluminium up to 40 mm.
Plasma cutting of factory components
If you want plasma-cut components for reworking, we can easily arrange this. We frequently plasma-cut components for a factory to rework in other factory departments. For example, this could be plasma cutting of components for the crane industry or the agricultural sector.
WE OFFER FLANGE FOLDING AND FLANGE PRESSING
Flange folding or flange pressing is the most common method of bending metal sheets, and our team is highly skilled in this method. Whatever the type of flange folding/flange pressing, we always take pride in delivering the assignment to the full satisfaction of the customer's requirements.
Prodan has two press brakes, enabling us to tackle virtually any flange folding/bending assignment. One press brake, for example, is a 6-axle CNC-controlled Darley 500 press brake capable of handling items up to 4.3 m, and works with pressures of up to 500 tonnes.
Precision flange bending with laser measurement
The press brake is equipped with laser measurement, which makes it possible to work with requirements for small tolerances. We know how important precision is, especially when it comes flange-pressing workpieces. That is why laser measurement is so crucial.