MILLING AND MACHINING ALL TYPES OF METAL AND PLASTIC
MACHINING WITH CNC MACHINES
Our machining departments produce workpieces demanding all levels of skill – from very simple tasks to highly complex workpieces, all produced according to the customer's CAD files. We process all kinds of metals and plastic, and the production apparatus comprises traditional, specialist and high-tech processes in the following fields:

   CNC lathe work
MILLING OF LARGE SERIES, SMALL BATCHES AND PROTOTYPES
Our milling department has both horizontal cutters and vertical cutters, an FMS system as well as a state-of-the-art five-axis machining centre. We can process all types of metals and plastics. Our milling department deals with large and small series, as well as prototypes. We cooperate with a diverse array of industries, e.g. machine manufacturers, the crane industry, the defence industry, agriculture and the wind turbine industry.
 
CNC milling
Several of the vertical milling machines are equipped with a CNC circular table and/or pallet exchanger (two pallets). In terms of dimensions, we can handle workpieces up to 4200 mm long and 1800 mm wide.
The FMS system
Our large FMS system has a CNC centre and an LPS system with 16 pallets and space for 256 tools, enabling shorter set-up times for repeat orders. In terms of dimensions, we can process workpieces up to 1400 mm long and 1050 mm wide.
 
The horizontal milling cutters have up to 10 pallets and 150 tools.
Our horizontal milling cutters are particularly suitable for tasks where the pallet can run for at least one hour. They are also suitable for the production of complex assignments with very small tolerances.
Five-axis machining centre
With some of the latest technology in this field, the five-axis machining centre makes it possible to undertake inter-related, high-precision work on complex workpieces from several sides at once. In terms of dimensions, the machine can process workpieces up to 930 mm long and 765 mm wide.
We use our five-axis machining centre for the offshore industry, machine manufacturers and the defence industry, among others.
Robots in the turning department
The robots in the lathe department perform their own spot-checking of workpieces and place them on the pallet. The robots are well suited for serial production on the lathes and series of as few as 50 units can be produced advantageously with the help of the robot. 
If your workpieces are bigger than our machining departments can handle, our heavy goods department can help you.
TURNING WITH CNC LATHES
In the turning department, we have CNC-controlled lathes with rotary tools, sub-spindle, Y-axis machining, etc., and some of our lathes have facilities for multi-axis machining.
We can process all types of metals and plastics. In terms of size, we are able to process workpieces up to Ø850mm in diameter and 3000 mm in length. Our turning department produces large series, small batches and prototypes for all kinds of businesses in all types of industries.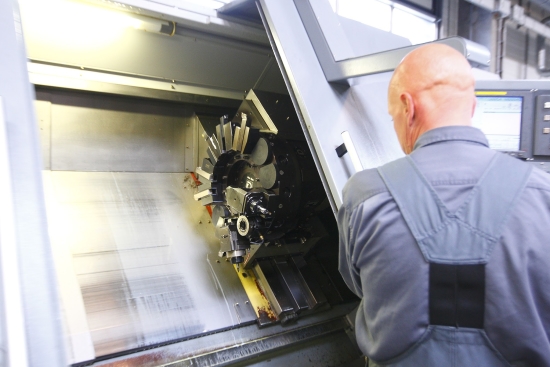 IF YOU HAVE A TASK, PRODAN HAS THE SOLUTION
We are continuously working to meet and exceed customer requirements and needs. And we're keen to discuss the customer's thoughts and wishes regarding their workpieces.
If the customer needs a workstation at Prodan in order to be close to the process of developing something new, this can be arranged.
How we go about the optimisation process:
Selection of different production methods and tools
Proposals for design modifications
Changing the degree of automation
Alternative choice of materials
If you have a task, Prodan has the solution, and we are standing by to deal with your next challenge in the best possible way.